Posted April 13th, 2016 at 6:38 amNo Comments Yet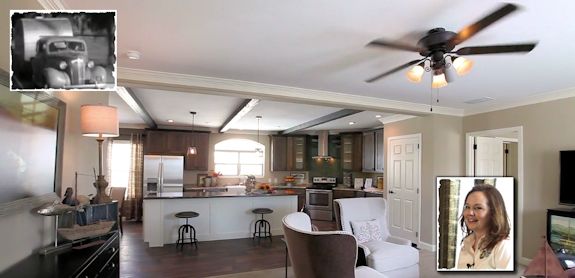 It used to be that manufactured homes were just for temporary living. Now it is a home — it's a place where people stay and live.
— Becki Jackson, Alabama Manufactured Housing Commission

Lakeland, Fla. April 13, 2016 — Quality affordable living is a hot-button topic across much of the nation. Public officials, reporters, housing advocates, educators, experts, lenders, investors and the home-shopping public are all looking for common-sense solutions. State inspector Becki Jackson says it's a matter of education, because the solution is available right now, today.
As Alabama's manufactured housing watchdog, Jackson's agency inspects factories, retail operations and the installation of new manufactured homes.
"We want the end result to be a good home for the people who will live in them," she says.
Jackson should know. She has lived in manufactured homes (MH) most of her life and came up in her dad's MH business.
Jackson says that when it comes to quality affordable living, nothing compares to the price, safety and exacting standards of today's modern manufactured homes.
The state agency she now works for is charged with regulating Alabama's manufactured housing industry, ensuring compliance with state and federal requirements — most notably the standards set forth by the U.S. Department of Housing and Urban Development (HUD) that have governed these homes since June 15, 1976.
In the latest video installment of Inside MH – The Road Show, L.A. "Tony" Kovach talks to Jackson about her experiences with manufactured homes, their evolution from the mobile homes of yesteryear and takes you inside the factories where these modern marvels are born.
"To see the process and how they do it — it's very impressive," Jackson says.
They say you can't judge a book by its cover, but when the cover is as gorgeous as the finished, modestly priced home in this video, you've just got to wonder what's under all that skin.
As this behind-the-scenes video reveals, beneath all of those good looks is a structural wonder – it's not just another pretty face.
Take a look inside the process, and see for yourself, the making of a modern factory-built home here in this fast-paced episode of Inside MH – The Road Show. ##

Photo Caption: Becki Jackson, lower right. Still of old mobile home/trailer house in top left corner – credit – CBS News. The living room and kitchen shown are of a contemporary, residential style manufactured home.
MHLivingNews.com and MHProNews.com are the leading trade publications for manufactured housing consumers and MH industry leaders who want up-to-date lifestyle and business news.
Media Contact:
L. A. "Tony" Kovach
Publisher – MHLivingNews.com
Phone: 863-213-4090
Email: latonyk@manufacturedhomelivingnews.com.###
No Comments Yet