Posted June 27th, 2016 at 5:40 amNo Comments Yet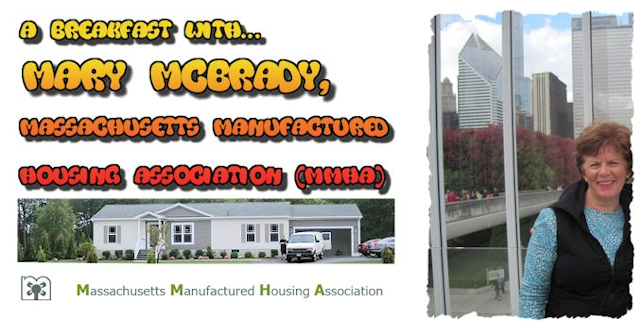 "In Massachusetts, there is a wealth of research being done on housing shortfalls – now and anticipated."
— Mary McBrady, executive director of the Massachusetts Manufactured Housing Association
Boston, Mass. June 27, 2016 — Mary McBrady has her finger on the pulse of America's housing shortage.
And as the executive director of the Massachusetts Manufactured Housing Association (MMHA), she is especially involved with the grave and growing shortage of mid-priced housing in her state, which many officials consider the biggest single threat to Massachusetts' economy.
"We, as an industry, need to be part of that conversation and dialogue," she says. "We may be a small state … however we have an enormous number of researchers and agencies interested in housing policy and analysis."
Massachusetts, in fact, is a microcosm of the national housing crisis, where the middle class is being squeezed out of home ownership.
A 2014 editorial in the Boston Globe called the historic state capital "a bifurcated city, where the very rich live in market housing and the very poor live in subsidized units.
"And once that happens, much of the city's character goes out the window."
The Globe editorial notes that the building trades have pushed hard for stick-built over less-expensive off-site home building techniques achieved through factory-based production.
"Construction workers may well resent the sight of entire walls with doors and windows intact arriving in Allston, Hyde Park, Dorchester, or other Boston neighborhoods on flatbed trucks from out-of-state factories. But there is room for a workable compromise, and (Mayor Marty) Walsh is in a good position to negotiate it:
"Manufactured homes could be built in Massachusetts factories with unionized labor. Then, as more area communities take advantage of the economies of scale, construction prices would drop even further."
Boston's mayor, in fact, is quite familiar with the benefits of factory-built homes and as a state legislator sponsored bills on behalf of MMHA, McBrady says.
With much of the city's middle class priced out of the traditional housing market, there is ample reason to pursue market-based solutions. According to the Globe:
· The need for new mid-priced units is vast throughout eastern Massachusetts; in the city of Boston itself, some 30,000 of them need to be produced over the next decade just to meet existing demands.
· In downtown Boston, a family earning $80,000 annually could afford just 1.7 percent of the homes sold.
In a recent Q&A, MHLivingNews talked to McBrady about housing policy, the Boston Globe editorial, the 40th anniversary of federally regulated manufactured housing and the opportunity for officials to address the nation's affordable housing crisis with quality factory-built homes that provide much-needed shelter — and jobs.
You'll find A Breakfast With Mary McBrady, along with a link to the Boston Globe editorial here. ##
Photo Caption: Mary McBrady – right, with Chicago skyline background during National Community Council Meeting. Logo and still are property of MMHA, and are used here under fair use guidelines. Collage credit, MHLivingNews.com
MHLivingNews.com and MHProNews.com are the leading trade publications for manufactured housing consumers and MH industry leaders who want up-to-date lifestyle and business news.
Media Contact:
L. A. "Tony" Kovach
Publisher – MHLivingNews.com
Phone: 863-213-4090
Email: latonyk@manufacturedhomelivingnews.com ###
No Comments Yet